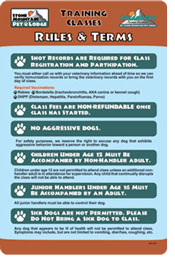 click to enlarge
Shot records are required for class registration and participation. You must either call us with your veterinary information ahead of time so we can verify immunization records or bring the veterinary records with you on the first day of class. (see Required Vaccinations below).
Class fees are NON-REFUNDABLE once the class you registered for has begun.
No aggressive dogs. For safety reasons, we reserve the right to excuse any dog that exhibits aggressive behavior toward people or other dogs.
Children under the age of 10 years old are not permitted to attend class unless an additional non-handler adult is in attendance for supervision. Any child that continually disrupts the class will not be able to attend.
Junior handlers under the age of 16 years old must be accompanied by an adult. All junior handlers must be able to control their dog.
Sick dogs are not permitted. Please do not bring a sick dog to class. If any dog appears to be ill of health, they will not be permitted to attend class.