Halloween Pet Playground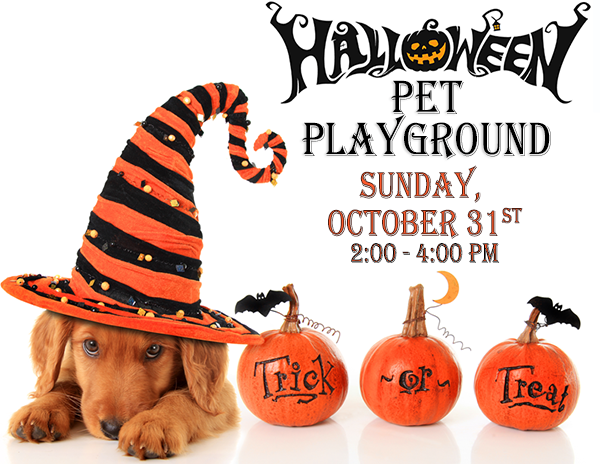 Let your dog to burn off some serious energy before Trick or Treating. Come to Halloween Pet Playground. Well be dressing up and you and your pets are encouraged to dress up in Halloween costumes. We will be giving a prize to the best pet costume and the best family costume. Your dogs will love our FUNgility course. Dogs can run up and down the ramps, stairs and train pieces. Smaller dogs are happy to run through the openings and compartments. For owners, the oversized cutouts let you see pets playing inside each piece.
This event is so much fun and can increase your bond with your dog while giving them a low impact challenge, burning off some energy, and allowing them (and you) the opportunity to make new friends.Your dogs can participate in hours of entertainment and tire themselves out before the Trick or Treaters start ringing your bell.
It is so much more than your average Dog Park. It is climate controlled and all dogs are vaccinated to keep all the pets safe.
For this Halloween Pet Playground, we will be taking Halloween theme pictures at no extra charge.
Some rules so everyone stays safe while their dogs have fun:
All dogs over 6 months must be up to date on Rabies, Distemper and Bordetella
(since this event is on a Sunday please keep in mind most vet clinics are closed so we will not be able to verify vaccines that day)
If your dog is 6 months or older, males have to be neutered and females cannot be showing signs of heat
We reserve the right to ask you to leave if your dog is not getting along with others
Owners can bring 2 people for each dog.
Learn More and Register